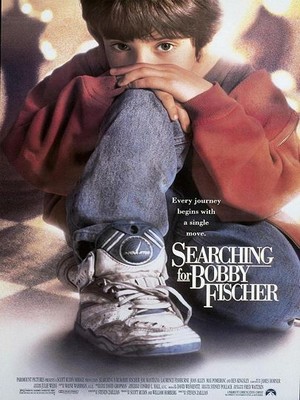 Mark your calendars: The Route 20 Chess Club and the Freeport Public Library, along with Freeport Golden K and City Coffee Co., will celebrate
National Chess Day, Saturday, Oct. 9, with an all-day community event
featuring an open tournament, a speed chess tournament and exhibition,
free chess lessons for beginners, and a screening of the movie
Searching for Bobby Fischer (rated PG). Then, on Saturday, Oct. 23,
we will continue the celebration with our second rated beginners' open
and open Swiss tournament at Highland Community College in Freeport.
The community celebration will be held at the library, 100 E. Douglas
St., Freeport, Ill. (map). All activities will be free and open to the
general public. Players may register for the tournament between 9 and
9:45 AM on the day of the event or sign up in advance at the library's
Youth Services desk (limit 48 players). The first round will begin at
10 AM. The tournament will be a four-round Swiss
with a 30-minute time control and will be divided into three
youth-only sections (grades K–3, 4–8 and 9–12) and one open
section for all ages. The K–3 section will be rated by the USCF. Winners will
receive trophies and free entry to the RBO on Oct. 23. Beginners'
lessons will be held in two sessions, starting at 10:15 AM and 12:45
PM, and the movie will start at 3 PM. The celebration will then move
to City Coffee Co., 15 N. Chicago Ave., Freeport (map), for a six-round
Swiss blitz tournament
(bring clocks). Registration will be open until 7:15 PM, and
the first round will begin at 7:30. The first-place winner will
receive a $20 prize; runners-up will receive coupons for coffee
drinks.
The RBO and open tournament will be held in the Community Services
Center (Building R) at Highland Community College, 2998 W. Pearl City
Road, Freeport, Ill. (park in Lot B -- map). The open Swiss will be in four
rounds with a 45-minute time control and a cash prize fund equal to 75
percent of entries. The RBO, open to players with USCF ratings under
1200 or unrated, will be a five-round Swiss with a 30-minute time control;
first-, second- and third-place finishers will receive trophies. Both
events will begin at 10 AM. Players may register for either section
between 9 and 9:45 AM on the day of the event or on this site (choose your section and click "Register" button at right)
. USCF membership is required;
single-day tournament memberships are available. Entry fees are $20
for the open Swiss ($12 for Route 20 Chess Club members), $10 for the
RBO ($6 for members).
We look forward to your celebrating the game of chess with us this October!