I probably ought to be featuring the game between Jim Strong and Steve McWhirter, in which Steve wrested away the top spot on the ladder . . . but this is the one I have recorded. It's interesting in its own way, though, as I thought Bill Koester was maybe going to have a heart attack over it -- at least until move 17, when I managed to fumble away my winning position.
K.Ammann–W.Koester
Route 20 Chess Club
Freeport, Illinois, Nov. 3, 2009
1.d4 b6
2.e4 d5 3.e5 e6 4.f4 f5
I was rather surprised that Bill was handing me exactly the sort of position I like to play best -- a big traffic jam -- and one in which I had more space, to boot. 3.exd5 may be better than 3.e5, and it's what Bill expected me to do, I think, but the locked-up pawn structure is much more to my liking.
5.Nf3 Nc6 6.Bb5 Bb7 7.Be3 Qe7 8.a3 a6 9.Be2 Nh6 10.h3 0-0-0 11.c4!?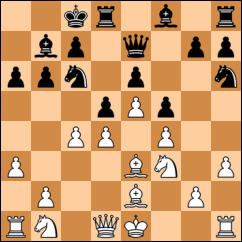 11.0-0 is more solid, but I had a plan.
11...dxc4 12.Bxc4 b5 13.Bb3 Na5
If Bill had seen what I was up to, he might have preferred 13...Nf7.
14.Nbd2
Not so hot . . . risks losing the bishop in a piece trade. 14.Ba2 would have been better. Actually, 13.Ba2, avoiding the loss of tempo, would have been best. But now Bill gave me a gift.
14...Qf7?
14...Nxb3 15.Nxb3 would have been far better for black.
15.Ng5!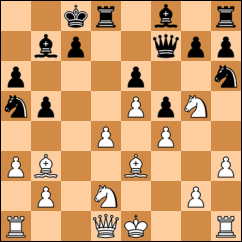 Threatening all kinds of nastiness: 16.Bxe6+ would simultaneously pick off the weak pawn and fork king and queen, while the even more unneighborly 16.Nxf7 would win a queen and a rook for a knight and a pawn. Relocating that queen is mandatory for black -- and the e6-pawn is still toast, no matter what.
15...Qg6 16.Bxe6+ Kb8
Now would be an excellent moment for some tempo-gaining counterplay, such as 17.b4 Nc6 18.Ndf3, or to execute my long-delayed kingside castling. Whichever shall I choose?
17.Bxf5?? Nxf5
And thus the game falls out of my hands and into Bill's. But even with this unexpected gift, it still takes him a while to generate a real attack. And I tend to play with a little more focus when I'm cornered.
18.Qe2 Ng3 19.f5 Qxf5
19...Nxe2?! is impossible because of 20.fxg6 Ng3 21.Nf7, forking black's rooks.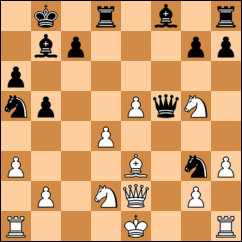 20.Qg4
Hoping to entice black into a queen trade, which I thought would be good for me, but I'd misread the sequence, as will shortly become apparent. Actually, the queen trade idea was correct, but I should have done it on f2 instead.
20...Qxg4 21.hxg4 Bd5
Whoops. So much for 22.Nf7, my planned knight fork, which was the whole reason I sought to trade off the queens. Ironically, Bill would have been quite a bit better off if he'd played the move I expected him to play, 21...Nxh1.
22.Rh3
And now things get weird for a bit, as neither Bill nor I have any real idea what to do next.
22...Be7?? 23.Rxg3 Nb3 24.Rd1 h6 25.Ngf3 Nxd2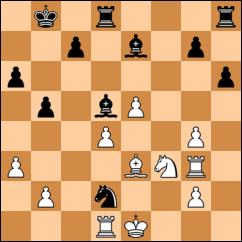 Finally Bill cuts to the chase. I have several different ways to recapture: Rxd2, Kxd2, Bxd2 and Nxd2. Three of them are good; one leaves me vulnerable to a dirty little pin. Guess which one I choose?
26.Nxd2? Bh4! 27.Kf2 Rhf8+ 28.Nf3 Bxg3+ 29.Kxg3 g5 30.Rh1 Rh8
The necessities taken care of, my lack of a plan becomes gruesomely apparent.
31.Kf2 Rdf8 32.Rc1 c6 33.e6
My pieces aren't working together, and my king would be safer where he was two moves ago.
33...Rh7 34.Rc5? Re7 35.Ke2 Rxe6 36.Ne5
Not a bad move -- threatening a knight fork on d7 -- but easily refuted.
36...Kc7 37.Rc1 Bxg2 38.Bd2 Bh3 39.Kd3 Bf1+ 40.Ke3 Bc4 41.Ke4 Rf2 42.Ba5+ Kb7 43.b3 Re2+ 44.Kf5 Rf2+ 45.Ke4 Bxb3 46.Ke3 Rf4 47.Kd3 Bc4+ 48.Kc3
At this point, Bill clobbered me with a surprising tactic. Can you find it? Black to move. (Highlight to reveal answer.)
48...c5! 49.Nd3 cxd4+ 50.Kb4 0-1
I resigned at this point, though Jim, who was watching, tried to show that I had something left in my position with the sequence 50...Bxd3 51.Rc7 Kb8 52.Kc5 Re5+ 53.Kd6 Rfe4 54.Rd7 Re6+ 55.Kd5 R4e5 56.Kxd4 b4, after which we all made him admit he was wrong. From move 49, Fritz takes it as far as 49.Nxc4 cxd4+ 50.Kd2 Rxg4, then resigns.